DASH is a powerful, very lightweight, easy to use and flexible web content management system. It is designed to allow you to focus on making content for your website and forget maintenance.
A modern and easy to use user interface.
DASH had one ambition. Not to compete with WordPress, but to deliver a different type of content management system, one that works with existing themes and websites without needing any modification.
Simplicity has always been at the heart of the DASH project.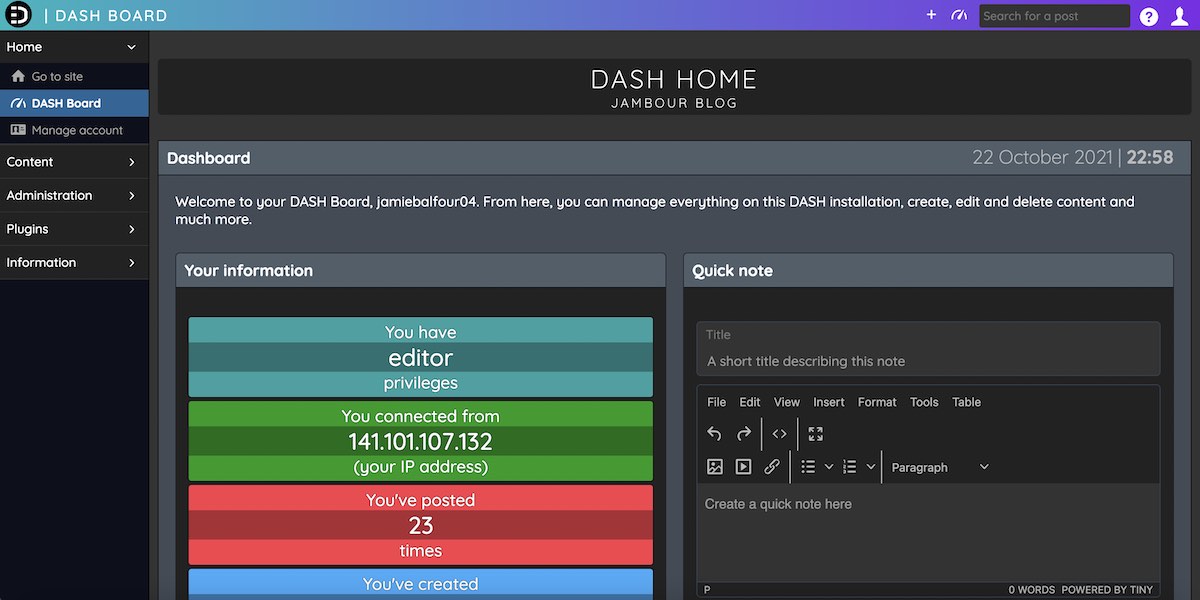 Oh so easy.
The plugin system makes it easy to use plugins developed by others or write your own plugin. These plugins can extend the functionality of DASH very easily.
Covering every angle.
DASH covers every angle with a front-end and a back-end for managing content. The front-end allows you to include DASH content anywhere on your website whereas the back-end allows you to manage it very easily.
Written in PHP and compatible with Apache.
PHP is one of the world's most used computer programming langauges which is why it make it an ideal choice of language to use for DASH.
Further to this, support for the Apache web server is built right into DASH.
Easy setup.
The setup of DASH only requires access to FTP or command line on the web server. A configuration file is then updated with database details and you are ready to go.
Fast.
DASH is fast. Features like DASH Boost help you template your content and makes it faster to get content out there quickly.
Free. Forever.
DASH is free and always will be. There are also plans to host the project in an open source community if there is enough interest here.